CHARLES H. INGRAM, of Empire Lumber Co., Eau Claire, was born in this place Sept. 12, 1859, and was educated at the high school and at the State University at Madison; is a stockholder of the Empire Lumber Co., and has been engaged as book-keeper in the company's store since April, 1881.

+++++

INGRAM, Orrin H.

ORRIN H. INGRAM, president Empire Lumber Co., Eau Claire was born in Westfield, Mass., in 1827. Removed with parents to Saratoga Co., N. Y., when quite young, and later on, went to the norther part of the State and was employed at lumbering for some three years. Afterward went to Canada, built a saw-mill near Kingston and three mills near Belleville, for others, and had charge of them for some two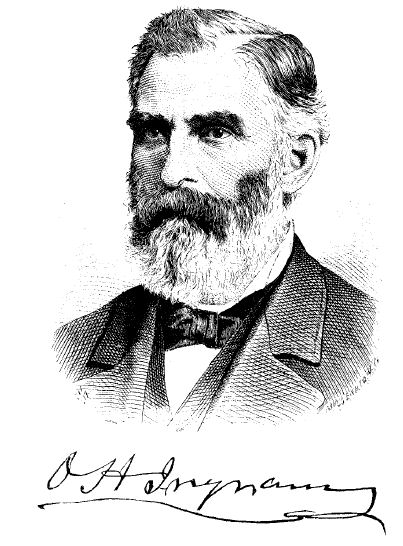 years; then went to Ottawa, building and operating a large saw-mill for Harris & Brunson. For several years previous to coming to
Wisconsin, had charges of mills for Gilmour & Co., Canada. Came to Wisconsin in the Spring of 1857. Located at Eau Claire, and commenced lumber business in firm of Ingram, Kennedy & Dole, in 1861; firm changed to Ingram, & Kennedy in 1873. They took in two of their employes, and style changed to Ingram, Kennedy & Co., and continued so up to March 1881, when the Empire Lumber Company was formed, of which Mr. Ingram is president. Has also been a partner in firm of Clark & Ingram, bankers, of this city, since 1872, and has been president of the Eau Claire R. R. Co. for two years. Was at one time Chairman of County Board of Supervisors for three years; president of the Eagle Rapids Dam & Booming Co. for several years, and also was president of the Dells Improvement Co. for several years. He held the position of president of the Chippewa River Log and Driving Association until its amalgamation into the Chippewa River Improvement and Log-driving Co. The Empire Lumber Co. is also connected with the Chippewa Lumber and Boom Co., and Chippewa Logging Co. Mr. Ingram has been in firm of Ingram, Kennedy & Day, of Dubuque, Iowa, for twelve years or more, and in firm of Ingram, Kennedy & Gill, Wabasha, Minn., for about seventeen years, and was also of the Charles Horton Lumber Co., Winona, Minn., and Ingram, Kennedy & Mason, general store, Eau Claire, until their amalgamation with the Empire Lumber Co. He was
also of Ingram, Kennedy & Thorpe, who built the steamer Silas Wright, in 1865, which steamer was run on the Chippewa River by that firm one year, and two years by Ingram & Kennedy, and also for one Winter by them on the Arkansas River. Mr. Ingram was married at Lake George, N.Y., in December, 1851, to Miss Cornelia E. Pierce, who was born near Lake George. They have four children - Charles H., employed in the store of the Empire Lumber Co., Miriam P., Fannie G. and Erskine B.