Histories >
Eau Claire Co. Historical Accounts
"History of Northern Wisconsin, 1881"

Eau Claire Biographical Sketches


(-as transcribed from pages 314 - 338)
"G" Surnames

+++++

GALLOWAY, W. T. (Dr.)


DR. W. T. GALLOWAY, Eau Claire, was born in Ogdensburg, St. Lawrence Co., N. Y., April 15, 1822, and graduated from Castleton Medical College, at Castleton, Vt. He began the practice of his profession in 1850. He went to Fond du Lac in 1851, remaining there until he came to Eau Claire, in 1857. He was appointed Register of the United States Land Office, and held that office until 1861. He is now, and has been for six years, an Alderman. He was Supervisor three years when Eau Claire was a town, and six years since it was a city, and still holds the office. He has been a Delegate to four National Conventions, always identified with the Democratic party. He was for four years engaged in the manufacture of lumber on Duncan Creek, near Chippewa Falls, and for twelve years in foundry and machine shops in Chippewa Falls and Eau Claire, besides managing a farm. In 1874, he built the Galloway House. He has built numerous dwelling houses. He erected the foundry and machine shops at Chippewa Falls, which have since been converted into gas works. He now stands as an Ancient Odd Fellow, and has taken all the degrees in Masonry. He was married in Fond du Lac, in 1854, to Laura Talmadge, who was born in Poughkeepsie, N. Y. They have one son, Nathaniel P., who is now in Arizona.

+++++

GANS, William

WILLIAM GANS, Eau Claire, was born in Spring Hill, Fayette Co., Penn., Sept. 17, 1818. Engaged in farming till 1854, and then kept a public house till he came West, in 1858. On his arrival in Eau Claire, in that year, he opened a hotel, which he ran two years. After a time, got a charter to run a ferry, which he opened to travel in Spring, 1861. Continued this until a bridge was built, in 1868. Married, in Fayette Co., Penn., Sept. 17, 1838, to Miss Maria Morris. Have two children living, George (engaged in Chippewa Falls) and Jennie.

+++++

GIBBONS, A. M.

A. M. GIBBONS, Eau Claire, was born in Ross County, Ohio, and
is now in the forty-fifth year of his age. His father was James H.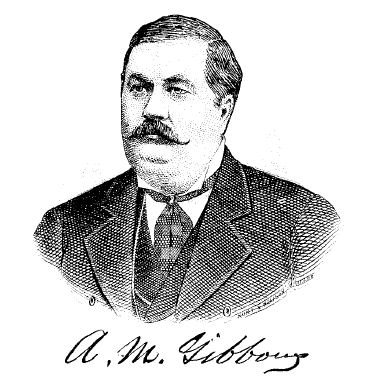 Gibbons, and his mother's maiden name was Elizabeth Mead. He came at an early age with his parents to Illinois. His educational advantages were in the main, only such as were afforded by the common schools of the county. He finished his schooling with one year at an academy at Granville, Ill. He was a close student, especially during this last year at Granville. He read law with Ira I. Fenn, of Illinois, and was admitted to the Bar in 1857, by the Supreme Court at Ottawa. He at once opened an office, and practiced his profession. In about two years he concluded to seek a different field. He went first to Peoria and from there to Colorado, where he found many people living in tents and wagons. The resources of the country were then only conjecture. He at once pushed on for Oregon. Many were the encounters and escapes he met with on the journey. He arrived in Portland, Oregon, in the Fall of 1859, and commenced the practice of law, which he continued until February, 1861, when he closed up and went to Washington. He was among the first volunteers of the war. After his service, he returned to
Illinois, and again to the practice of his profession. He was a delegate to the "National Union Convention" at Philadelphia in 1866. He is an active Republican.

+++++

GILMAN, John Lawrence

JOHN LAWRENCE GILMAN, Eau Claire, came to Wisconsin in l866, and has since been engaged in mercantile business in Eau Claire, in partnership with G. B. Chapman, Esq., with the exception of one year. He was born in Granville, Licking Co., Ohio, Sept. 7, 1833, and lived in that State until 1850. Was in California from 1850 to '54; was in Champaign, Ill., until 1864; in Idaho Territory from 1864 to '66. He was married in Granville, Ohio, Sept. 10, 1856, to Nancy E. Asher, who was born in Granville. They have two children, Arthur J. and Helen Pauline. Mr. Gilman was City Treasurer one year. He is a member of the Knights of Pythias.

+++++

GRAHAM, Fred H.

FRED H. GRAHAM, son of Hiram P. Graham, was born in Wellsville, Allegany Co., N. Y., Feb. 25, 1855, and came from his native place to Wisconsin, locating in Eau Claire, in 1857. He has been connected with the Phoenix Manufacturing Co., since its organization.

+++++

GRAHAM, Hiram Pease (Hon.)

HON. HIRAM PEASE GRAHAM, president of the Phoenix Mfg. Co., Eau Claire, was born in Windham, Greene Co., N. Y., March 29, 1820. Resided in Canada from 1844 to 1852. From 1852 to 1856 in Allegany Co., N. Y., and in the latter year he came to Eau Claire. He has held various town and county offices. Was Lumber Inspector five years, and was the first Mayor of the city of Eau Claire. Mr. Graham was member of Wisconsin State Senate in 1874-75.

+++++

GRAHAM, R. C.

R. C GRAHAM, treasurer Dells L. Co., Eau Claire, was born in Greene Co., N. Y., Jan. 1, 1831. Engaged in farming at home until the death of his parents. In 1852, moved to Allegany Co., N. Y., remained some six years and then moved to Williamsport, Pa. Engaged in general occupations. Came to Eau Claire in 1873, and engaged with the present company. Was married in Allegany Co., N. Y., in 1854, to Miss Maggie Cowen. Her parents were living, at this time, in Canada, formerly from Schenectady, N. Y., where Mrs. Graham was born.

+++++

GRIFFIN, Michael (Hon.)

HON. MICHAEL GRIFFIN, lawyer, Eau Claire, was born in the County of Clare, Ireland, Sept. 9, 1842. Came to America in 1847. Settled in Sauk County in 1855. In 1861, he enlisted as a private in Co. E, 12th Wis. V. I. Was promoted to first lieutenant, and remained in the service until the close of the war. Participated in the siege of Vicksburg, Sherman's Atlanta campaign and march to the sea, and Sherman's campaign north through the Carolinas. After the war he located at Kilbourn City, in Columbia County, where he remained until 1876, when he came to Eau Claire. He held various town and county offices while at Kilbourn City. Was member of the Assembly from Columbia County in 1876. He was appointed City Attorney of Eau Claire in 1878 and re-appointed in 1879. Elected State Senator in 1879.

+++++

GUTSH, August

AUGUST GUTSH, saloon, Eau Claire. Came to Wisconsin in 1872 and located at Menomonie. He was employed as butcher for some years, then carried on the business for himself for about four years. Came to Eau Claire in 1878, opened a butcher shop and ran it for two years. Commenced present business in April, 1881, and owns business building. He was born in Germany, Nov. 25, 1848, and came to America in 1872. Having married in Germany, Oct. 25, 1871. He has five children - Herman, Emma, Gustave, William and Fritz.
---